Our Next Production
By turns wicked, funny, warm, romantic and touching, The Music Man is family entertainment at its best. Meredith Willson's six-time, Tony Award-winning musical comedy has been entertaining audiences since 1957 and is a family-friendly story to be shared with every generation.
The Music Man follows fast-talking traveling salesman, Harold Hill, as he cons the people of River City, Iowa, into buying instruments and uniforms for a boys' band that he vows to organize – this, despite the fact that he doesn't know a trombone from a treble clef. His plans to skip town with the cash are foiled when he falls for Marian, the librarian, who transforms him into a respectable citizen by curtain's fall.
Show dates are:
April 21 at 8:00 PM
April 22 at 8:00 PM
April 23 at 2:30 PM
Open auditions will be held a the Waterville Playshop building located at 808 N Michigan Ave. in Waterville on Sunday, February 5th from 2:00 p.m. to 5:00 p.m. and Monday, February 6th from 6:00 p.m. and 9:00 p.m.  Piano accompaniment will be provided.  Be prepared to sing 1 – 2 minutes of a traditional Broadway Song including at least one verse and the chorus.  See links below for audition form, expectations and tentative schedule.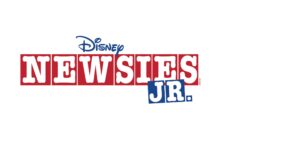 Disney's Newsies JR. is a 60-minute version of the 2012 Broadway musical, based on the 1992 film. Inspired by the rousing true story of newsboys in turn-of-the-century New York City, Newsies JR. features a Tony Award-winning score by Alan Menken and Jack Feldman and a book by Tony Award winner Harvey Fierstein.
When powerful newspaper publishers raise prices at the newsboys' expense, the charismatic Jack Kelly rallies newsies from across the city to strike against the unfair conditions. Together, the newsies learn that they are stronger united and create a movement to fight for what's right.
Show dates are:
June 23 at 8:00 PM
June 24 at 8:00 PM
June 25 at 2:30 PM
Past Productions
Waterville Playshop has been delighting audiences for a long time. How long you ask? Well, let's just say that when our first production premiered, the President was Harry S. Truman, the TV show I Love Lucy had just come out, and the hot new toy was Mr. Potato Head!
The long and rich history of Waterville Playshop has refined this community organization into a group that strives to put on professional quality shows using the abundant talent that Northwest Ohio has to offer. Let's take a look at the shows of the past that have helped us to perfect our future…
2010 to present
2022-2023
She Love's Me (October 28, 29 & 30)
2021-2022
Frozen Jr. (June 24, 25, 26)
Spongebob: The Musical (April 22, 23, 24)
Matilda (October 22, 23, 24)
Godspell (September 9, 10, 11, 12)
2020-2021 (Shortened due to pandemic)
Black Comedy (June 24, 25, 26, 27)
2019-2020 (Shortened due to pandemic)
Adams Family (November 14, 15, 16,17)
2018-2019
Mary Poppins Jr. (June 21, 22, 22)
9 to 5: The Musical (April 12, 13 14)
Footloose:  The Musical (November 16, 17, 18)
2017-2018
Alice in Wonderland Jr (June 21, 22, 22)
Spamalot (April 12, 13 14)
Once Upon a Mattress (November 16, 17, 18)
2016-2017
Lion King Jr. (June 22, 23, 24 & 25)
Fiddler on the Roof (April 27, 28, 29, 30)
High School Musical (November 18, 19, 20)
2015-2016
Elf Jr. (June 24, 25, 26)
A Patriotic Music Review (May 19, 20, 21, 22)
Children of Eden (April 15, 16, 17)
Into the Woods (November 6, 7, 8)
2014-2015
Oliver (Oct 31, Nov 1 & 2)
Aladdin, Jr. (June 26, 27, 28)
Guys and Dolls (April 24, 25, 26)
Leading Ladies (Feb 13, 14, 15)
2013 – 2014
Anything Goes (October 18, 19, 20)
The King and I (May 9, 10, 11)
Over the River & Through the Woods (February 14, 15,16)
2012 – 2013
The Wizard of Oz
Lend Me a Tenor
Joseph & His Technicolor Dream Coat
2011 – 2012 – The 60th Anniversary Season
The Sound of Music
The Dixie Swim Club
Seussical the Musical
1952-2010 Archive
Donate Today
Every penny matters. We value every single contribution because it means we're one step closer to our goal. Our community stands strong to help those around us.